Your Blueprint # 1 - Octavea Bryant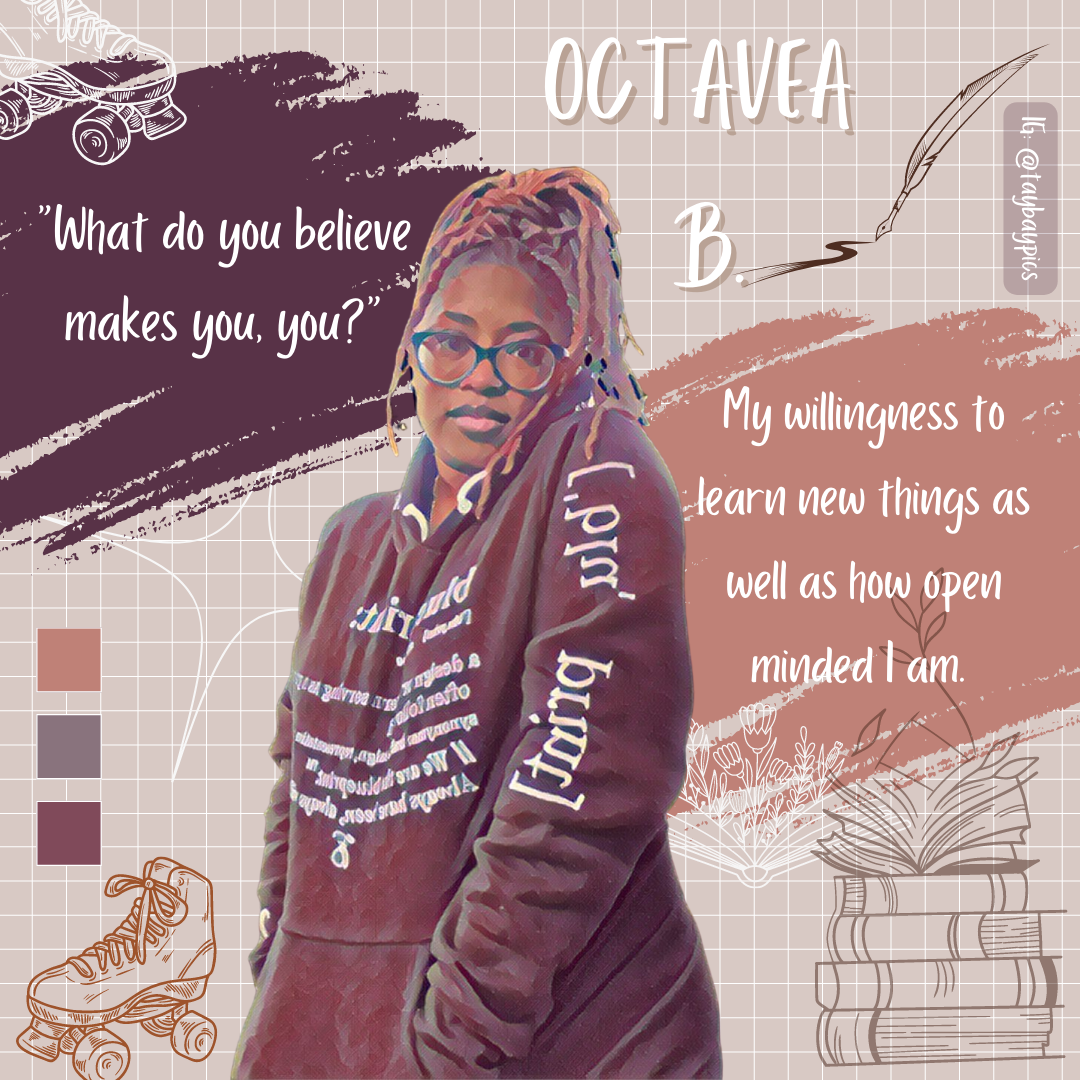 Octavea Bryant - A Lover and A learner
Who is Octavea Bryant?
Octavea Bryant is a member of the FBA Family from Atlanta who participated in the "Your Blueprint Giveaway". She first began shopping with us in April 2021 with introduction of Blueprint 2.0  where we first introduced our satin lined hoodies and has been an active supporter of Faithe Bey Art since.
What is a Blueprint?
A Blueprint is the individual qualities of a person that not only makes them but affects the world in which they live. Everyone's blueprint is their gift to the world.
How do you come up with a Blueprint?
We asked a series of questions to everyone who participated in the giveaway to better understand them and their story. Scroll down to see how she answered them specifically or take the Your Blueprint Survey yourself for a chance to be featured
Using these answers and gathering additional info from Octavea we gathered a story this is her Blueprint.
Octavea's Blueprint by us.
Octavea Bryant is a Black Woman from Atlanta who loves to learn, love, and skate. Her vibrant qualities affect the world around her in many ways. As a Black woman her style, looks, and personality can be seen in many forms across popular culture, which is what the original Blueprint series strived to represent. Octavea's willingness to learn spreads to her surroundings to everything she loves. Her ideal lifestyle of constantly reading of new books, practicing of new tricks as a skater, and spending endless amounts of time with her son, allows her willingness to learn to spread to those she may encounter. Octavea is free and joyful, a great mother, and a well respected member of the FBA Family. 
Responses to questionnaire
Describe yourself in 3 words or less.
Creative, shy, open-minded
What do you like to do for fun?
Skate, do my nails, learn new things and Read.
What is your favorite color?
Teal, Blue, golden yellow
In a perfect world, what does your life look like?
I wake up and make breakfast. Read a few chapters and then exercise. Go skate and practice a few new tricks. Research my next nail design. Read some more after cleaning my house. Plan out an extravagant different for my son. Then we pick a movie to watch together before he goes to bed.
What do you believe makes you, you?
My willingness to learn new things as well as how open minded I am.
What do you want this world to remember you for?
She loved hard and learned all she could.
What affects your past?
Trauma.
What affects your present?
Persistence.
What affects your future?
Hope.
What do you think your blueprint is?
Freedom, new skills, warm, and joy.
---